The Physical Education Curriculum
Larmenier & Sacred Heart Catholic Primary School recognises that Physical Education (PE) is an important part of the curriculum. It is valuable for developing pupils' physical skills, promoting health and fitness, leisure activities and also contributes to the development of social skills.
The aim of the PE curriculum is to lay the foundations for a physically literate individual who has an understanding of physical activity and its long and short term benefits on body and mind. Conversely, pupils should understand the consequences of lack of exercise and the effect of improper use of the body.
The content of the PE curriculum is based on the National Curriculum Programmes of Study for Key Stages 1 and 2, and the Early Years Foundation Stage Framework.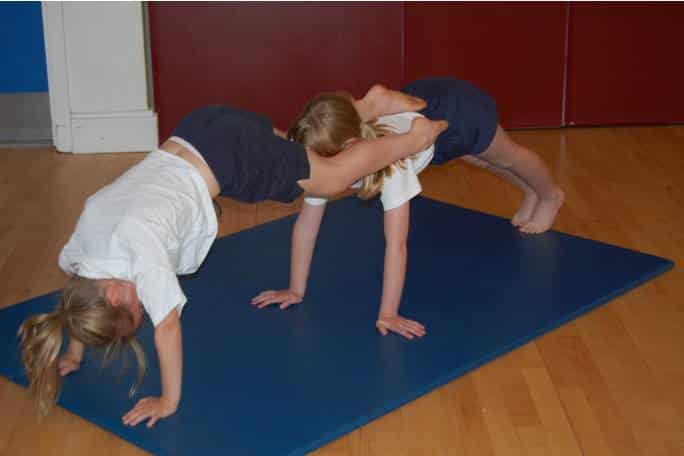 Outdoor Adventure Activities
In Upper Key Stage 2 pupils are given the opportunity to participate in a range of orienteering and outdoor adventure activities as part of the residential school journeys. The varied menu of activities encourages pupils to test their physical ability, take risks and develop team work skills within a safe environment.
Activities include:
orienteering
low rope challenge
shelter building
abseiling
archery
climbing
team challenges
Intra & Inter School Competitions
The school provides pupils with opportunities to take part in competitive sports. These promote healthy competition and encourage pupils to strive for excellence.
Intra school competitions include:
Key Stage sports days
Year group tournaments
House competitions
Inter School Competitions – Pupils who are more able or talented in particular aspects of sport are selected to represent the school in local or national competitions, individually or as a team. These include: The Mayor's Cup Football Tournament, District and Indoor Athletics, London Mini Marathon and the Hammersmith & Fulham Swimming Gala
Extra-Curricular Sports Activities
Each term, the school runs after school activities which are supervised by school staff and/or specialist coaches.
Activities on offer include:
netball
football
dance
cricket
gymnastics
tennis
multi-sports
These activities vary according to the season and the school calendar, and provide opportunities for more advanced coaching within a smaller group.
All pupils from Year 2 onwards are encouraged to take part in extra-curricular activities.